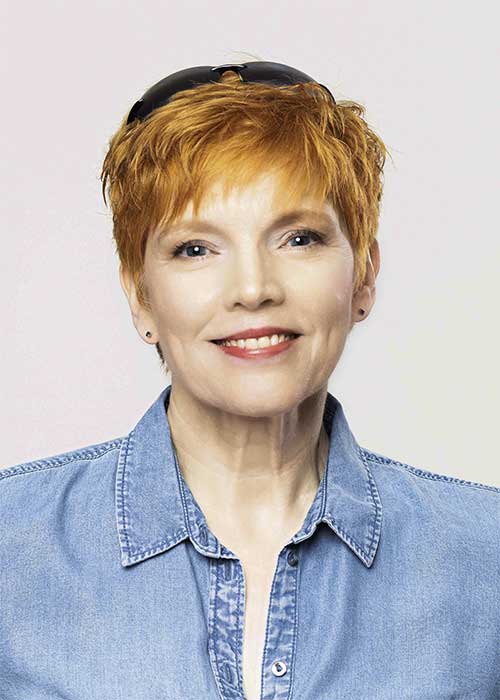 Kathleen Renish - American
Founder of etc
At the age of 5, Kathleen knew that she wanted to be an entertainer/actor/dancer/singer. The stage attracted her in elementary school and high school where she played Helen Keller in The Miracle Worker winning Best Actress in a State competition. In her early 20's she played Annie Sullivan, Helen's teacher, in the same production.
She studied Theater at Pennsylvania State University (College of the Arts and Architecture) at the main campus and was cast in her first professional role in America's 200th Birthday celebration – The Bicentennial Wagon Train Show, where she toured with a troupe of performers in covered wagons, with cowboys and other patriotic Americans winding their way across the country with one destination in mind – merging at Valley Forge National Park on July 3, 1976. Kathleen's show troupe, Company 3, was chosen to sing on that same evening for a crowd of over a quarter of a miilion.
In her 20's & 30's, her career was mixed – acting, singing and dancing in various musicals such as Grace Farrell in ANNIE, Sonia in THEY'RE PLAYING OUR SONG, Joanne in GODSPELL, Fiona in BRIGADOON.
She also had leading roles in WEST SIDE STORY, OKLAHOMA, STARTING HERE STARTING NOW. Besides Musicals she had leading roles in OUT OF GAS ON LOVERS LEAP, THE OWL & THE PUSSYCAT, PLAY IT AGAIN SAM, FLOWERS FOR ALGERNON as well as in various Murder Mysteries in the US and Germany.
She toured with a Broadway Musical company for 6 months in Germany, Switzerland and Austria and was held up for 13 hours in a 60 km traffic jam when the Berlin Wall came down. That musical was THE GOLDEN MUSICALS OF BROADWAY where she played Maria in WEST SIDE STORY, Cosette in LES MISERABLE, Grizabella in CATS and understudy for Christine in PHANTOM OF THE OPERA. After the tour she returned to NYC only to pack up her belongings and move to Germany where she has been ever since.
Kathleen founded an American theater company in Cologne in the 90's and performed in various productions over a period of 3 – 4 years. In addition, she sang with a pianist, a bigband and for 17 years with a swing / jazz quartet before writing and starring in her one woman show – A LOST AMERICAN IN GERMANY, which she performed in Germany for 6 years and had performances in NYC and outside of Philadelphia.
On televison, German audiences can see her in TATORT, KUESTENWACHE, UNTER UNS, IN YOUR DREAMS, and ALARM FUER COBRA 11. She was thrilled to work with Hilary Swank in 55 STEPS, directed by Bille August. Nickelodeon fans saw her in the three part tv series, LOST IN THE WEST, and she loved working with Austrian director, Barbara Eder on WEST OF LIBERTY, a 6-part international political thriller. American audiences have seen Kathleen in 2021 in her first, national television commercial.
Besides working on and off camera, Kathleen is a sought after voice over artist speaking for a variety of clients in the medical, technical, and scientific branches for commercial spots, e-learning and corporate films. She is also experienced as an on-camera presenter for corprorate e-learning videos.
In addition to her performance work, Kathleen has taught Business English for many large corporations in Germany and is an English Dialect Coach for actors and European business people. She has also directed children's plays, dramas, comedies and events in the US and Germany.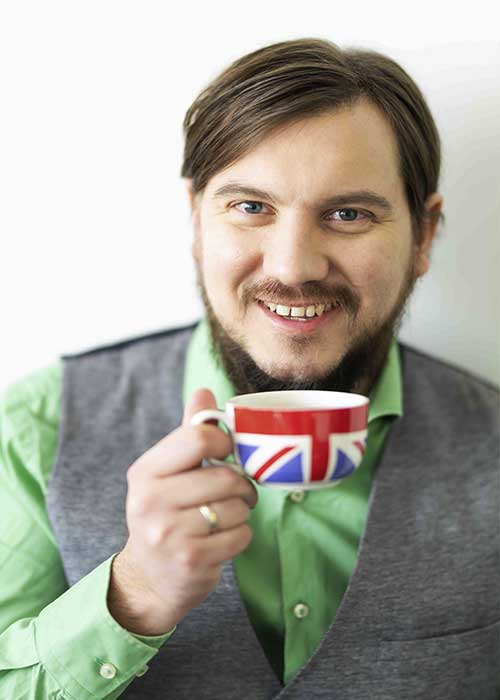 James Bunyon – British
Founder of etc
Born in Gravesend, England James was introduced to theatre and the
performing arts through school actives and local theatre performances. At the age of 11 he attended Stagecoach Theatre Arts as part of a Saturday morning musical theatre class in Royal Tunbridge Wells. As youth theatres became popular, James started to attend other groups in the local area. It was a production of Agatha Christie's "Murder at the Vicarage" at The Stag Theatre in Sevenoaks where James was cast in the role of Dennis, one of the two teenage roles in the play, when he decided to further his studies.
This led to studying A-Level Theatre Studies at Hurtwood House, in Holmbury St Mary, Dorking under the direction of Adrian Rawlins (James Potter in the Harry Potter Franchise) and Mike Friend (Lyttelton Arts Factory, New Zealand).
At the age of 16 James earned a work experience placement with Sir Andrew Lloyd Webber's "Really Useful Group" focusing on theatre production in the West End of London. Gaining a 2.1 BA (HONS) degree in Acting with Musical Theatre at The Birmingham School of Acting in 2005. In 2004 James was awarded the gold medal in speaking of verse and prose by LAMDA (London Academy of Dramatic Art) with distinction.
Combining the love of theatre with teaching meant that James developed projects with many Theatre In Education (T.I.E) companies both in the UK and abroad. Working with "Cragrats" in England meant that clients such as NHS England and Connections (a government career guidance program) created many interactive performances and workshop opportunities for students across the education sector.
Joining Europe's largest educational touring theatre – The White Horse Theatre, Soest, in 2005. James has become the longest working actor for the company touring Germany, Denmark, France and Thailand over a 16 year period.
During the pandemic James continued his studies TEFL (Teaching English as a Foreign Language) Exams in general English and Business English and is continuing with a young learners certificate. Another passion is dance, being part of The Euro Dance Centre, Troisdorf taking ISTD dance exams in Ballroom and Latin obtaining an Honours in Samba and Cha,Cha,Cha. Over the last few years James has been involved in many Murder Mystery events and worked on set at Warner-brothers at Leevesden Studios London, on a range of major film projects.
Theatre Credits include Shakespeare plays "Othello" (Iago), " Comedy Of errors" (Dromio), "A Midsummer Night's Dream" (Bottom/Demetrius) "All´s Well That Ends Well" (Bertram), classic British drama "The Private Ear" by Peter Shaffer (Ted), "Teechers" by John Godber (Mr. Nixton). "The Adventures Of Mr. Toad" (Chief Weasel). Trey Parker's "Cannibal! The Musical" (Edinburgh Fringe), Neil Simon's "The Odd Couple" (Komödie, Düsseldorf), Alan Ayckbourn "Relatively Speaking" (Greg), Film: Warner Bros The Legend Of Tarzan (David Yates, Leevesden Studios), Jack Ryan Shadow Recruit (Kenneth Branagh), Dark Shadows (Tim Burton, Pinewood Studios),
Commercials: Beetle Borgmetalix (Sky), Trainline (online ad), Il Rimedio (Music Video)
Corporate: Murder Without a Clue'do (Colonel Mustard, Moneypenny Productions), video for language training specialists in Düsseldorf (Dijana Henkel)
Voice-Over: Swords Of Legends (Rain Productions, Köln)